Commercial Window Tinting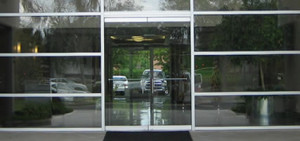 Among the things you have to consider as a business owner or manager are utility costs, property safety, and the prime condition of your wares and your building's fixtures. Whether you're the manager of a corporate office or the owner of a small business, you can tackle all three of these issues at once by installing commercial window tints. On Long Island, your best bet for window tinting is All County Window Tinting. If you're paying too much in energy expenses or noticing distracting glares on your computer screens, window tint can be a practical and affordable solution. It's also a great way to stop harsh sunlight from streaming in and fading all your merchandise and furnishings. To learn more about commercial window tinting, get in touch with All County Window Tinting today! We'll provide you with stellar results.
We have a full line of window tint available for installation in your Long Island business. We can help you select from clear window tint films, ceramic films, smoked films, and other styles. We install Express window tinting film, which blocks up to 99.9% of UV rays, making it a versatile, convenient, and cost-effective alternative to standard window treatments like curtains and blinds. Our window tints will keep the sun out of your customers' eyes, maintain a moderate temperature indoors, and protect all of your valuable equipment and merchandise. No matter which variety of window tinting you select, you'll be able to enjoy a number of terrific benefits, including:
Reduced utility bills
Improved protection for your merchandise
Improved protection for electronics and furnishings
Enhanced comfort for customers and employees
Increased safety from flying glass
Enhanced curb appeal
And more!

Once you've selected a style and opacity level for your window tint film, we'll custom-cut it to the exact size you need. The fact that window tint films can be cut to size makes them ideal for covering large display windows or glass doors that can't easily be covered by shades or blinds. Enjoy commercial window tint for its attractive look, for its durable nature, and for the energy savings you'll see once the films are installed. With window tints from All County Window Tinting, you can be sure you're making a sound investment in your business space. 
Affordable Window Tints
In addition to offering quality commercial window tinting products and quick turnarounds for installing commercial window tints, All County Window Tinting strives to keep our prices among the lowest on Long Island. We want you to be satisfied with the experience of working with us, and that means giving you top-notch service at reasonable rates. We'll even come out to your commercial space to give you a free cost estimate for the commercial window tints you're considering, sharing with you the pros and cons of various window tint styles. 

The skilled installers at All County Window Tinting have more than 21 years of experience in the window tint industry. We're fully insured, for your complete protection and peace of mind. On top of our insurance, we offer a lifetime warranty for commercial window tinting, which enables you to call us back if you have any issues with the window tinting film we installed. To get started protecting your employees, customers, and merchandise, contact us now via phone or e-mail! We'll answer your questions about commercial window tinting for businesses across Long Island and schedule the earliest available appointment to get started. We look forward to working with you. 
commercial window tinting
window tints
window film tinting